Times are changing. Gone are the dreary cubicles of old, and here to stay is the office of the future!
The last few years have been an eye-opener not just for employers but for everyone. As we become more aware of the benefits of keeping and remaining healthy during the COVID-19 pandemic, we have started to question what we can implement in our offices to make a safe, clean work environment and what we want in life to benefit our mental and social well-being. The Work-from-home requirement brought on by the pandemic was a struggle for everyone- businesses and workers alike.
As we head back into an office forever changed by what we have experienced and the knowledge of how we wish to live the rest of our lives, we ask- how can we make the office, not just a fun experience but also a healthy workspace for people to come together, collaborate and grow?
The hybrid era is upon us, now more than ever, are offices' perks scrutinised, and employers are finding their workers are now looking to their competition to provide them with incentives to return to work full-time.
But how do we keep the employees we already have if they return to the same workplace as before the pandemic? How do we keep employees happy, safe, ready and excited to return to work?
The old days of cubicles, white walls, drab interiors and cold boardrooms are no more. As we come together and finally get to shake hands again (or bump elbows), hug our loved ones, see our friends and greet our co-workers, we need spaces that inspire employees to socialise, collaborate and reclaim what was stolen from us through the cold, lonely years of the Pandemic.
We spend half our time in the office- it should be a space we enjoy being in.
2023 is the year to start thinking about change, about coming out of the other side of a terrible few years, not just for businesses but for everyone.
As we head back into the office, it's time to start reflecting on how our office's functionality can create an environment to inspire connection and openness within a safe place.
During 2022 we have been experiencing requests for new office layouts, concepts, exciting ideas and design solutions every day. Check out our list of tried, tested and most requested office trends from our clients and be inspired by how OFG can help bring your 2023 office into the future…
Modern Style with large open spaces and fostering areas of connection.
A modern style may seem like a given when talking about the office of the future, but not every office wants a modern aesthetic; some prefer a classic functional look.
Modern style is not about 'new' but instead is a certain aesthetic and layout that people have deemed as the look of the latest trends. For example, in 1960, a 'modern look' would be psychedelic patterns and acid-edged colours, which are not considered modern today.
Instead, in 2023 the modern look consists of large open areas that are bright, light and clean with collaborative spaces, paired tables and fun, recreational areas to connect and enjoy.
After the isolation of the previous years, 2023 is about creating connected spaces, work tables facing co-workers to converse and be productive, with low partitions to help with privacy and noise reduction and assist with the flow of the space.
Sustainable Style combining natural elements
We all talk about sustainability, being more environmentally friendly and making morally-conscious decisions with the things we eat, the things we use and the materials we pick.
But what does that mean for an office space?
How can we incorporate a more environmentally-friendly aesthetic and ethically-sound choices into a new office design instead of just adding some plants and calling it a day?
Sustainability is more than a 2023 'trend'; it is a lifestyle we must all follow to look forward to a greater future for our loved ones and our companies.
Slogans, billboards and advertisements everywhere are talking about 'plastic-free paper straws' and 'ethically-sourced materials', but there are many ways that we can incorporate more environmentally-friendly choices within our office fitout and design.
For 2023, environmentally friendly and ethically-sourced materials are a given, and so is using less plastic and more recycled materials. But that does not mean we need to lose out on style.
A sustainable design combines natural elements such as greenery and recycled wood with smart, electricity-saving lighting options and large windows that utilise natural light; gone are the days of harsh tube lighting, and here to stay is a growing design trend for the more environmentally-conscious office design.
After the pandemic, employees are more aware of creating calm, tranquil and healthy offices that positively affect mental health and improve workplace well-being.
A sustainable office is not only helping save the planet but also creates a more natural environment within the office.
Large windows focusing on the natural beauty and landscape on the outside can help bring a peaceful, calming aesthetic to an office space. Taking inspiration from the colours of nature and the outdoors, with natural elements such as wood, greenery and softer tones such as light green, light sky-blue and soft pinks can help with a more cohesive, serene look and revitalise/optimise the space, bringing the outside in.
Check out the unique project OFG worked on with Head to Health.
Neutral Palettes with a pop of colour 
Often people get caught up on what they believe are 'respectable', 'versatile' and '
professional' colours for offices- beige, brown and greys are versatile, but the office of 2023 needs more fun, bright and stimulating spaces than cold designs and white walls.
Combining pops of colours, even with a neutral palette, is an excellent way of adding more fun and interest to a space, whilst off-white, textured furniture and natural wood tones can brighten up a room mixed with calm, bright colours, adding warmth and comfort to a space.
Adding colour doesn't need bright yellow, striking red or bold choices. Incorporating a palette that suits the tone and look you want for your office, using plants, cleverly placed feature walls, artwork or more shades of your brand colours can help make your office stand out and create spaces for your employees to feel inspired rather than drab and tired.
Check out the project gallery for the inviting learning centre Kynd, whose design incorporates an inviting, earthy colour palette.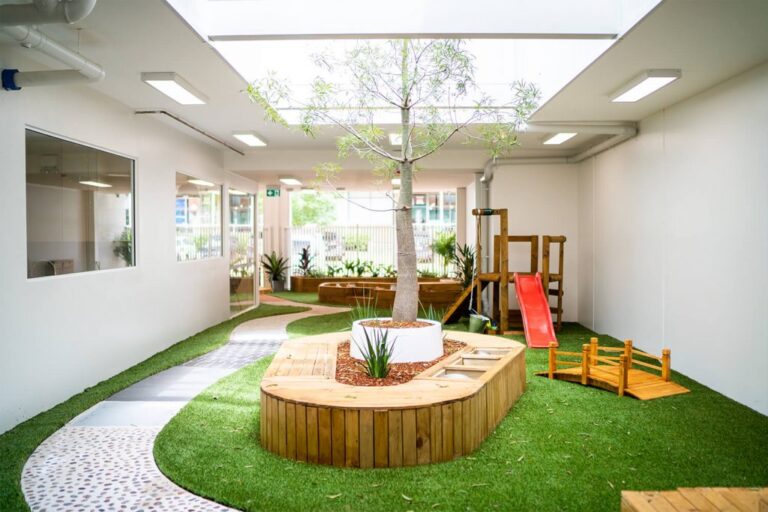 Natural Woods and Black Accents 
Using black on an office wall can seem overwhelming and oppressive, but incorporating black accents to a space for a more classic style combined with natural wood partitions is becoming a chic, popular choice in warehouse-type, high-industrial look conversions, creating an illusion of space.
Clean lines and contrasting lighter wood tones, caramel shades or white can brighten a room and is a perfect solution for a modern but classic office feel.
Not every office needs or wants pops of colour, not every business wants that 'modern' look, and some prefer a modern twist whilst keeping true to their brand. A more classic style does not need to mean concrete walls and beige. It can mean incorporating clever black lighting options, black frames and contrasting wood partitions to create spaces for meeting and help with the flow of the office.
Check out this beautiful, ergonomically designed space for RJW Associates with the following:
Large open spaces and fostering areas of connection.

Perfectly combined premium wood materials and textures.
Clean lines, bold black light installations and framework.
Each of these aspects combines to create a stunning visual piece of art that perfectly represents how bold, black lines and natural woods can create a classic style with a modern twist.
Partitions
Partitions can be a daunting word. Flashbacks to cubicles and dull spaces, with a desk, a lonely dying plant and a picture of your family (the only faces you've seen whilst working in your high-walled cubicle all day) can have you singing fully-open spaces from the rooftops.
But partitions can assist the flow of an office space, add much-needed privacy and help with noise reduction.
Partitions, especially those used to section desks, do not need to be boring and dull. They can be made from various materials (including glass!) and have colours that fit your brand or add a pop of colour to bring a little fun to the space.
Glass partitions are a great way of keeping the space light, open and bright whilst creating defined areas for meetings, collaborative spaces and sectioned areas that fit a purpose.
Natural wood and slated wood partitions create a modern look and add depth to the area, creating a warm, inviting space, just like home.
As the saying goes- work is your home away from home.
Whether it is for an office, shop, restaurant or hotel, when it comes to commercial interior design, we often hear the words 'homey', 'warming' and 'inviting' when clients describe their ideal office space.
When combined with greenery, mood lighting and soft furnishing, natural wood tones can bring a residential feel to a commercial property.
Check out this design for Agriwebb, with Natural Wood and greenery for a calm, inviting look.
Hybrid-friendly offices
'Hybrid' is all we ever hear these days. Do you remember when 'hybrid' was just a concept in every new Prius advertisement?
2023 is the year to embrace the hybrid.
COVID-19 not only started an uprise in the hybrid era but has also shown companies how they can be flexible with not only their employees working hours and time in the office but also how they can start adapting the office to be more 'hybrid-friendly'.
Sure, it is great to see people returning to the office, and in a perfect world, everything would be back to normal. But what is normal these days? Is there a new normal? Is Hybrid the new normal?
Accommodating our employee's needs has always been important. Adding perks such as coffee machines, new printers, and a breakroom was (and still is) a great way to show employees they are valued, but how can we make the transition from work-from-home to hybrid working easier?
Smart Environment, smart technology, smart idea
Long before 2022, our technology usage was rising every day. Technology is now an integral part of our lives and can help us connect with colleagues and grow our business' online presence.
We may no longer consider technology a luxury, but have you ever thought about the technology most employees have when working from home?
Most homes come with many easy-to-access plug sockets, innovative technology, power and data integration but do our offices?
Adopting smart technology does not have to mean bartender robots or the terminator as your doorman.
Smart technology can mean:
Faster internet connection.

Private spaces with easy-to-access data and power spots.

Faster and more capable devices.

Equipment for virtual collaboration, training or meetings.
Considering the physical space and how an employee will use the area is the key to intelligent office design. A clever lighting plan, socket placement, and smart technology can help with productivity and are not only office perks but can save you money down the line.
Easily Convertible and transformable offices
Having an easily transformable space provides a solution to the hybrid era. Flexible table and chair arrangements, flexible workspaces, and mobile partitions that you can adapt to suit your office needs are not only cost-effective but also provide an ideal solution to office space restrictions.
With an easily convertible and transformable office design, employees do not require personal, separate workspaces but shared spaces, tables and communal areas to come together when they are in the office and for others to use when they are not, allowing more employees to use a smaller office space.
This type of design is not for every office. It offers a great money-saving and space-saving solution for a business with many employees on differing schedules, with some working remotely or partially.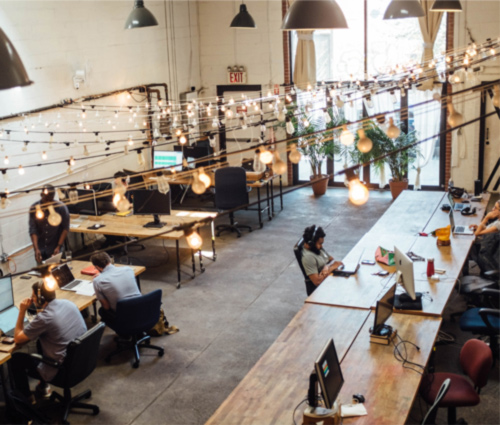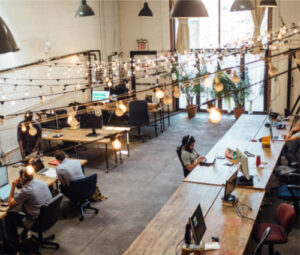 Flexible Pod-Area spaces and open-space Layouts
Flexibility is the name of the game for a 2023 office, it may seem like a 'new-buzz word', but flexibility can be applied to suit the way we work and the way we communicate.
A great open meeting room is perfect for face-to-face meetings, but remote-working, worldwide clients and hybrid workers require small, private areas for online meetings.
'Pod areas' are an innovative and practical design concept embraced by many companies these days and are an excellent choice for small offices that need to allocate areas for specific tasks and uses.
These areas provide adequate room for video conference calls or small meetings that do not require a large meeting room and quiet spaces for employees to research or privacy for specific tasks.
These "pods" are flexible, can be used by anyone and do not have fixed walls but mobile partitions and light chairs/desks that can be moved at will, allowing you to create different rooms for your requirements and are an effective way of forming collaborative spaces by removing concrete barriers.
Space for healthy food choices
Did you know that 73% of office workers believe a well-stocked kitchen would make them happier at work, and 57% have indicated that it would lead to increased staff morale and work ethic?
A kitchen fitout allows your employees to make healthy eating choices and is a tasty office perk for anyone returning to the office.
A new kitchen area does not have to take a huge bite out of your budget, but it is a great way to give back to your employees and let them know their health and well-being are important to you.
It has been that work is a home away from home. Therefore, providing a kitchen and spaces for employees to make healthy choices is a great office perk and an excellent incentive to those wanting to have home comforts and work from home a little longer.
Check out our beautifully-designed custom kitchen with soft mood lighting and areas to enjoy healthy, prepared meals during breaks.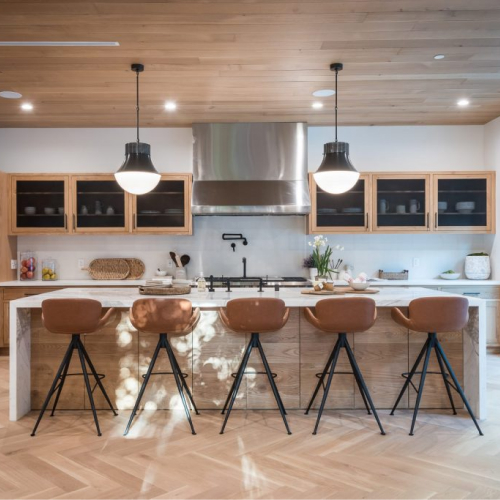 Space for fitness
Health is essential, more so after the pandemic. A healthy life and office are imperative for our physical fitness, immune system, and mental health.
For many getting to a gym or allocating a few hours of fitness can be difficult whilst juggling work, home responsibilities, and commuting. Going to the gym or gaining an hour's walk daily can seem a luxury.
Before 2023, office gyms or fitness spaces were a luxury only for the 'hip', cool offices. But in 2022, office gyms or fitness programmes started becoming more popular. Modern facilities offering exercise equipment and outdoor or indoor group activities during breaks or after work are becoming a trend for many office redesigns.
Working inside an office all day can be taxing, not just physically, but your mental health and well-being. Dedicated areas for fitness have been proven to improve employees' work ethic and well-being and are incentives employees agree can tempt them back to the office.
After all, who can afford gym memberships these days?
A space for an employee to remain fit, healthy and happy that encourages group activities and collaboration can make their time working in the office enjoyable, enticing them to come into the office every day.
Accessible, safe places for inclusivity and security
2023 is not all pandemics and doom and gloom. This year has also seen some positive social changes, including inclusivity and awareness of how we can create a safe environment and space for everyone to feel safe, secure and included.
An office design can reflect this. Adding a more accessible space is not just about ramps, elevators or adapted toilets; these days, these inclusions should be a given.
2022 has seen offices adapt by adding more comforts and safety measures to ensure safer, cleaner areas and environments for workers. 2023 needs to keep the momentum.
Creating a safe environment by reducing room capacity and opening areas with windows for air ventilation is a great start. Incorporating non-porous wipeable materials on touch points such as door knobs, regularly-used seating, furniture, and easy-to-clean office flooring has been more critical than ever.
Hard, easy-to-wipe furniture and surfaces do not need to be boring and plastic or uncomfortable but adding simple furniture and less cluttered spaces within a cleverly-planned office design can provide cost-efficient, clean and secure areas for your employees to come together and feel safe.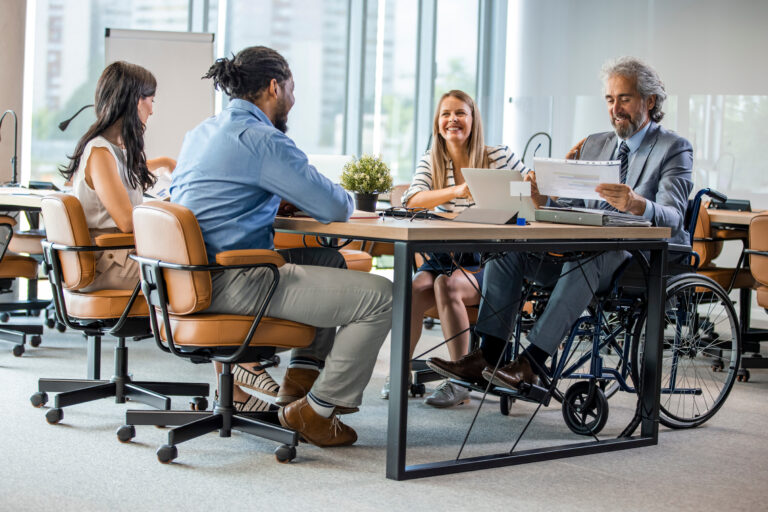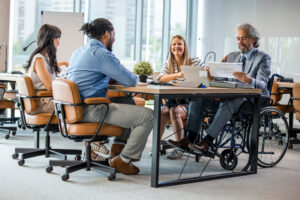 Collaborative Recreational Areas
Collaboration in a world where we have been told not to socialise for so long sounds like an odd concept. But recreational spaces where employees can come together and relax, laugh and work is a 2023 office trend, delivering a much-needed space to help us socialise again.
After years of online meetings, Teams calls and secret pyjama-wearing, coming back to the office can be scary for some. Concerns and worries about safety and natural social anxiety can occur.
Communal recreational areas can increase employee efficiency and workplace happiness and help restore work relationships that may have been left by the wayside over the last few years.
2023 Office Designs incorporate relaxation zones, segmented spaces with glass partitions and organised furniture layouts allowing for conversation and fostering collaboration.
Homely, residential-feeling office spaces with gentle and relaxing lighting, soft furnishing, indoor plants, decorations, board games, table tennis, flexible pod-area layouts, and even rooms for console gaming are on the rise.
The office of 2023 no longer requires all work and no play but understands that having fun and enjoying what you do and your environment is proven to make productive, happy employees who love the place they work.
Changing with the trends.
Office trends change as the interior design industry matures and adapts to new technologies, materials and techniques. Likewise, our workspaces must grow, adapt and change to accommodate employees' wants, needs and requirements, not just after the pandemic but also in a world of change and betterment.
A business must be flexible and embrace the changes from traditional to fit with how we work, live and socialise now, and their office space must reflect that.
An office is no longer just a place to work but a blank canvas for businesses to entice and show employees they are valued, heard, and appreciated.
As we open up to the possibilities of the future and the forever-changing landscape of how we communicate, share and work, we open ourselves up to a future of endless office design possibilities.
2023 office designs are about flexibility, sharing, collaborating and being a more sustainable, environmentally-conscious society to pave the way for not only the offices of the future but how we want to live our lives.
We can help you make your workplace ready for 2023!
Our company brings over 30 years of combined experience in Office Design and fit out and have helped thousands of businesses around Australia. This is what we do: 
Commercial and interior design

 

Office Space Planning

 

Design and 

Fit

o

ut

 

Branding 

Fitout

 

Commercial Joinery

 

Office Relocation

 

Project Management

 

Commercial Acoustic Solutions
We value honesty, 
trust
 and respect
We are straightforward with our pricing and for what you'll receive,  to ensure you can make an informed decision before investing in the right services for your office. 
Our business operates through our clients' trust, which is why we work towards ensuring all our clients are fulfilled with their new office. 
Your workplace is our workplace. Our director will personally oversee and review each project to ensure that every detail is taken care of with the utmost quality in mind. Only "good" is not good enough.
Specialist in Office refurbishments while still occupied
We have the experience and knowledge to get the job done without obstructing the normal workflow of any business. 
We understand that business owners may be hesitant to start redesigning their offices and intimidated by the process, however, we specialise in walking you through the process to create a safe, efficient environment for your business. 
We offer free design, measure & quote to show you how we will make everything happen. To guarantee that everything will be finished in a timely manner and with as little obstruction to your business, we work weekends and after hours.
No job is too small
We want to ensure that every business can forge ahead and make a positive difference into the new world, which is why we dedicate time to every single project, regardless of how big or small your business may be.   
We are experienced in 

Fitout

 During Occupation, so you 

won't

 have to close down your doors while we do our thing.

Honesty, 

trust

 and respect are what we value most; so there will be no hidden fees, costs or surprises that will change the final cost. Everything that would cause a change in the price of the project will be disclosed to you in a timely manner and discussed before anything major is implemented. 

 

We love what we do, and because of this, we design every project with love and attention. We want to make sure you and your staff get a workspace that will inspire you and motivate you to do better every day, just like we do.
How do I get in touch or book a consultation?
If you wish for more information or to book a consultation with our Early Contractor Involvement experts, call us now or use our handy form to get in touch. We take care of your project end-to-end with our Early Contractor Involvement and detailed, itemised fixed price budget for clarity and control.