Ahh, the great open office; practical, spacious, and great for employees to get together, collaborate and get that creative juice flowing. But what does an open office look like post-covid 19?  
Sure, the advantages of an open-plan office layout include flexibility and agility and are known to improve company culture and enhance communication and innovation. But are there disadvantages to an open office layout?  
During our years of creating flexible, practical, and beautiful offices, we have found that with office layouts, it is not one size fits all… and guess what? That's okay.  
An office space should fit you, your business, and your requirements. It should work for how you use it and how you wish for it to add to the productivity of your team.  
Want an open space with lots of fun activities where employees can collaborate freely in and enjoy? Then, an open-plan office may be the best option for you. This is perfect for creative or collaborative industries, startups, tech companies and sales or customer service organisations.  
On the other hand, if you require small spaces and private, soundproofed meeting rooms with secluded and individual workspaces for confidential meetings (perfect for Solicitors, medical practices, or financial businesses), then a closed office space may suit your needs better.  
Open plan is often described as a modern style with co-working spaces that increases collaboration and networking which boosts innovation and creativity. The key to creating, designing, and picking an office layout that works for your business is understanding how it can help your team and how it can be optimised or utilised to add to your business efficiencies.  
For some, open-plan offices have too many unwanted distractions by eliminating quiet places and private rooms for employees to think deeply without interruption, away from both noise pollution and stress. And let's be honest, sometimes, after a long hard workday, a few hours of respite is not only wanted but often essential.  
An open plan does not mean open for all, a solution for all or even a perfect work environment for all. However, an open-plan office layout can offer some great benefits, which we will get to later in the article.  
For now, the most important questions are what is an open office layout, and what is a closed office layout? 
Open plan office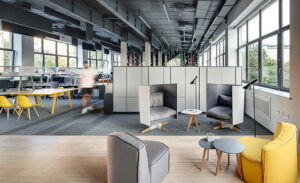 What is an open-plan office layout?
An open-plan office layout is an office floor plan designed to increase communication, networking, face-to-face interaction, and employee collaboration. The layout generally provides a uniform structure with all employees desked in the same room or co-working spaces. In addition, open-plan office layouts sometimes incorporate closed-off spaces, such as private meeting rooms, to maintain a semblance of privacy for meetings or interactions that require soundproofed areas.  
Open-plan office layouts are precisely planned out to boost interactivity, innovation and creativity and offer a great alternative to a closed-office layout. Open-plan office setups often incorporate low cubicles or partitions separating co-working areas, which is an excellent solution and design for tech companies or creative companies that require interaction and collaboration.
What are the advantages of an open plan office?
The most significant advantage of an open-plan office is creativity, collaboration, and teamwork. An open plan office also eliminates a hierarchy allowing all employees to feel included, part of a team, and listened to. Open plan offices also bring people together to encourage a sense of belonging whilst inspiring better communication, learning opportunities and innovation. An open plan office is fantastic for brainstorming, allowing ideas to flow faster and freely and is excellent for productivity. Another unknown advantage of an open office is that they cost less with reduced construction, office equipment, and utility costs with shared office resources. The hierarchy is squashed, and with no barriers, employees can feel they can approach their manager to communicate any changes or voice concerns freely. Altogether, an open plan layout champions and improves employee management and employee satisfaction.  
Improved communication and collaboration
An open-plan layout can create a productive hub of collaboration, teamwork, and communication. Open plan offices break down walls and barriers (physically and metaphorically!) with open spaces and a layout that makes it easy for your team to come together and communicate, which inspires a friendly company culture. However, the increased noise pollution may cause distractions and might not suit the environment you wish to present to your clients. Adding acoustic and space-utilising designs, including glass curtain office partitions, office pods and soundproofing solutions, can give your team a quiet, breathing room for meetings or solo work.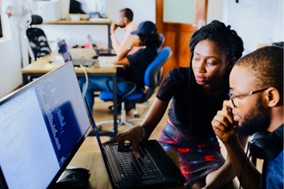 Greater flexibility with the space
Open plan offices offer agility and flexibility. It caters to many groups all working together towards a shared goal or project and functions as an adaptable space you can alter to suit your needs or situation. Open plan offices often have light, modular and agile furniture solutions for a bespoke furniture arrangement that can be rearranged and moved. This allows plenty of uses for the space, which is particularly advantageous for companies with different departments working on a project.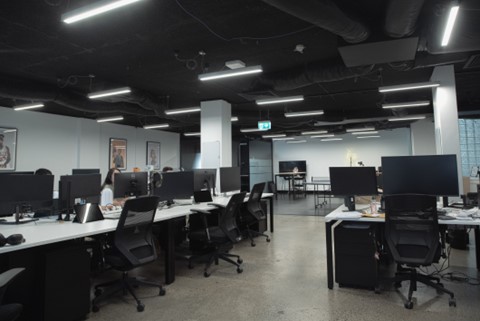 Increased Creativity
Open offices allow employees and creativity to flow through the office. Closed workspaces enclose your team in separate workspaces and can hinder performance and prevent department crossovers which can be valuable in building relationships for creativity and collaboration. The trick to an open office is to provide quiet spaces, also known as safe havens and retreats, where small groups or individuals can branch off to get their heads down or focus on projects without noise or distractions.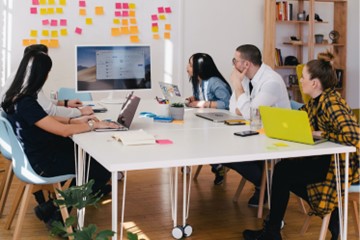 Improved Company Culture
An open office layout can work wonders for office and company culture. Working in isolation in a closed office environment can be lonely, and difficult for team members to converse and form a bond. Open plan offices assist in developing a fantastic company culture full of interaction to help employees feel fulfilled and happy. It is an outdated concept and negative notion that employees must complete their tasks in silence, which can cause employee relationships to break down. A sociable and inviting company culture is essential to form a happy, productive, and healthy team that enjoys coming to work in the morning.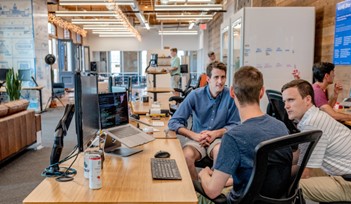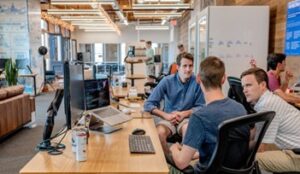 How to Adapt Open Plan Office Layouts Following the Covid-19 Pandemic 
The pandemic has challenged the way we work and the way we socialise in more ways than one. Not only have we become less interactive as humans, but Covid-19 has challenged companies to really address their current work setup and readdress if the environment provides a healthy and protected space for employees to feel safe. There are many ways office managers can adapt their office space and work practices whilst remaining open and social without compromising all the remarkable things that make an open office what it is. For example, to adapt your open plan office layout, you can look to implement the following:  
Amend your current setup and floor plan to facilitate social distancing while encouraging socialising. 

 

Install transparent Perspex screens to separate desks that provide a barrier to the virus but not to social interactions. 

 

Carry out regular cleaning of the entire office space.

Ensure hand sanitising stations are always at hand for employees for peace of mind and convenience. 

 
Simple adjustments can be the most effective to facilitate the changes and challenges we have all experienced throughout the pandemic. This can help your office find valuable solutions and alter your working practices for good to ensure a safe office environment for all.  
Open plan office etiquette 
So, what is the open plan etiquette to ensure the setup works for everyone?  
Every employee is different, that's what makes humans so great, but not everyone works the same way. For example, some people need a dynamic, quick, and thriving environment with lots of conversation and ideas from all angles, while others require quiet spaces for private contemplation. Whilst some flourish with face-to-face communication, others prefer their privacy. Therefore, whatever setup you decide on, it is essential to follow a few simple rules to ensure your open plan office works for all employees.  
Respecting other employees' time 
Productivity often requires conversations between the team and other departments, but keeping the volume down and being mindful of the fact that only some enjoy this working environment can be essential for a harmonious office culture. 
Designated 'quiet zones.'
If a worker has displayed discomfort or has signaled, they are working on a project or a lurking deadline that requires deep concentration and is not available to talk, it is essential that their space is respected, and their needs provided for. They may enjoy an area where noise is minimal, which is automatically respected as a 'quiet zone.' Designated quiet zones also help them to avoid the awkward conversation of asking others to reduce their volume.  
If you cannot provide designated seclusion rooms, there are great alternatives such as office pods, mobile office partitions and creating private spaces with booths and comfortable chairs for privacy.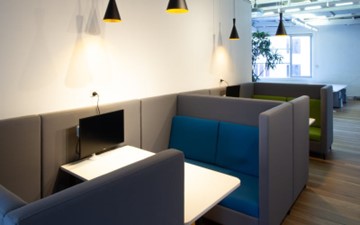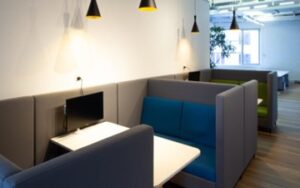 Designated soundproofed meeting rooms
A designated meeting area free from distractions and employees is always a good idea for client meetings. Soundproofed meeting rooms help present a great professional image and allow clients to discuss their business privately.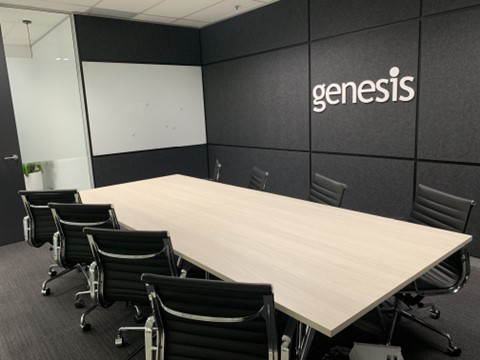 Space-saving solutions
Adding space-saving solutions that keep the area organised and free from mess is always essential when you have many people working in the same space. It can also help the team coordinate by tidying up cables or folders that can make the workspace messy and distracting.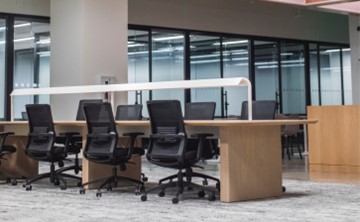 Deciding whether an open plan office is right for your organisation 
An open office requires a clever office layout and design to ensure a balance between open space, productivity, communication, and privacy, which can often seem like conflicting ideas. We always champion open plan offices, but they are not without their disadvantages.  
What are the disadvantages of an open plan office?  
Some of the major disadvantages of an open plan office are:  
Noise pollution 

 

Lack of quiet areas 

Does not suit all business types

Not great for introverts

Can often be chaotic. 

 
What is the best alternative to an open office layout? 
Ultimately, the best alternative to an open office layout will depend on the specific needs and goals of your organization, as well as the nature of the work being performed. You may be looking for the best alternative to an open plan office that still provides an environment that boosts happiness, productivity, and teamwork, and encourages happy, healthy employees while allowing a quieter workplace environment. If your organization requires a setting that is more private, then a closed-plan layout might be right for you. 
Closed plan office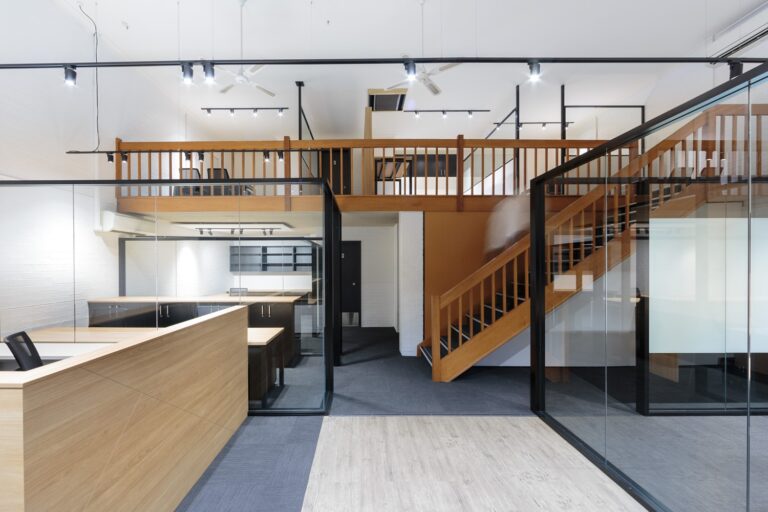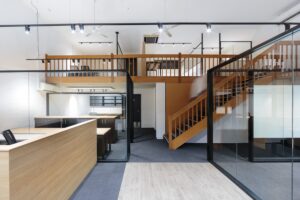 What is a closed plan office? 
A closed plan office, also known as an enclosed or private office, consists of cubicles and panels to create segregated spaces, rooms or areas and separate working spaces for employees and departments. A closed office plan is fantastic for avoiding noise pollution, especially for companies that require a quiet space, such as Lawyers, Solicitors and Banks. In addition, they help encourage employees who are more productive in quiet, neater settings providing a 'more systematic' environment than an open planned space.  
What are the advantages of a closed plan office? 
The main advantages of a closed office layout include privacy, increased worker performance and a clear hierarchy.  
Privacy
A closed office is an excellent option for a company that requires privacy, with enclosed spaces that eliminate outside noise and distractions. It also provides segregated personal spaces for employees to feel safe, secure, and free to personalise with photos or comforts from home. Privacy in an office can also help boost employees' performance, allowing them to concentrate on their projects in a quiet room.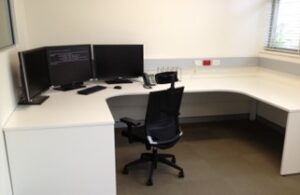 Increased employee performance
Closed offices are great for businesses that require concentration to focus on tasks that require intense focus, reduced noise and freedom from any distraction that can decrease a worker's performance.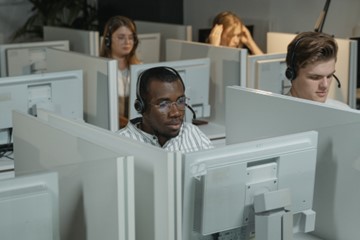 Clear hierarchy
A closed office establishes a clear hierarchy which is especially helpful for individuals that work better with a mentor or clear leadership and a great incentive for hard work.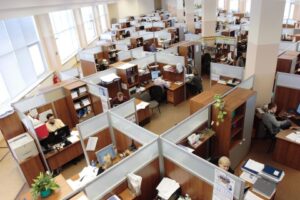 Whether you are looking for a closed office, an open office, or something in between, you should always look to create an environment that fits your work and your team. An office layout is not one-size-fits-all. We hope this article has set you on a clearer path towards your open plan or closed plan office project dreams.  
Who can I call for more advice?
Talk to our Fitout, refurbishment, and office design Experts today.  
Our company brings over 30 years of combined experience in Office Design and fit out and has helped thousands of businesses around Australia. We offer:   
Commercial and Interior Design  

 

Office Space Planning  

 

Design and Fitout  

 

Branding Fitout 

Commercial Joinery 

Office Relocation  

Project Management

Commercial Acoustic Solutions .

  

 
We value honesty, trust, and respect. 
We are straightforward with our pricing and about what you'll receive to ensure you can make an informed decision before investing in the right services for your office.  
Our business operates through our clients' trust, which is why we work towards ensuring all our clients are fulfilled with their new office.  
Your workplace is our workplace. Our director will personally oversee and review each project to ensure that every detail is taken care of with the utmost quality in mind. Only "good" is not good enough.  
Specialist in Office refurbishments while still occupied 
We have the experience and knowledge to get the job done without obstructing the normal workflow of any business.  
We understand that business owners may be hesitant to start redesigning their offices and intimidated by the process. We specialise in walking you through the process to create a safe, efficient environment for your business.  
We offer free design, measure & quote to show you how we will make everything happen. To guarantee that everything will be finished promptly and with as little obstruction to your business, we work weekends and after hours.  
No job is too small 
We want to ensure that every business can forge ahead and make a positive difference in the new world, which is why we dedicate time to every single project, regardless of how big or small your business may be.  
We are experienced in Fitout During Occupation, so you won't have to close down your doors while we do our thing. 

 

Honesty, trust, and respect are what we value most, so there will be no hidden fees, costs or surprises that will change the final cost. Everything that would cause a change in the project's price will be disclosed to you promptly and discussed before anything major is implemented. 

 

We love what we do, and because of this, we design every project with love and attention. We want to ensure you and your staff get a workspace that will inspire and motivate you to do better every day, just like we do. 

 
How do I get in touch or book a consultation? 
If you wish for more information or to book a consultation with our experts, call us now or use our handy form to get in touch. We take care of your project end-to-end with our Early Contractor Involvement and detailed, itemised fixed price budget for clarity and control.