Office Renovation Tips for Improved Productivity
Smart business owners know that success depends on hiring the right people for the job.  By setting the right tone, you can make your business environment attractive to prospective recruits.
Your work space says a lot about you and the corporate culture of your business, and the right candidates will not only be attracted to great benefits and a higher salary, but also to how much you care for your employees.
This will be demonstrated in the design of your office space as a place where employees will feel comfortable and eager to give their best.
If you're thinking of optimizing your business environment, there are several ways in which you can renovate your office space to enhance productivity, and reflect who you are and what your business stands for.
–              Follow the lead of forward thinking major corporations such as Facebook and Google who offer their employees the best working environment in which to be creative.  These companies have discovered the secret of not confining employees to small cubicles, but to offer them large open spaces in which to interact and communicate.  So if you are thinking of renovating, consider dumping the cubicles and knocking down the walls.
–              Recreation is another innovative addition to work space environments. This has been adopted by larger corporations to allow employees to unwind during break times, and think of something other than work related issues.  Physical activities such as pool, table tennis, gym sessions and games have been proven to improve concentration and brain power.  If you have the budget and the space, you may want to consider installing a small gym or a games room where employees can relax in each other's company.  Offices with recreational facilities also encourage employees to be more productive and to stay longer at work, which is great for your bottom line.
–              Reflection Zones
Employees who work on complex business problems often need to isolate themselves in a quiet environment to think it through.  When renovating your office space, consider including a quiet space where employees can relax undisturbed.
–              When redecorating, consider the effect of colour on mood and creativity.  Certain colours stimulate brain activity while others are so dull they can put employees to sleep.  Make use of the powerful effects of bright and bold colours, or soft, subdued hues. Employ the services of a professional colour consultant to advise you on the best combination for your requirements.
–              Upgrade your kitchen if it is ugly and dismal looking.  Employees need a clean, well equipped kitchen for refreshments.  If possible, include a staff canteen in your renovations where employees can sit down together during lunch breaks instead of leaving the building for a meal.
–              Replace small dingy windows with large, bright ones to let in natural light and, if possible, provide a view to look at.  Better insulation will make the environment more comfortable and save money on heating and cooling.
–              The right office furniture is extremely important in a renovation project. Employees deserve comfortable office chairs with good posture support.  Colour coordinate your furniture with your new décor for a cohesive overall effect.  Striking office furniture will give your office an immediate boost and transform it into a fresh and young looking environment, or you can opt for a traditional look with leather seating and oriental carpets in the meeting and reception rooms.
–              Overhaul your reception area.  First impressions are lasting, so make sure that your reception reflects your business culture, whether that is hip, cool and creative, or solid and businesslike.  Use lighting and colour in a clever way to create the right mood and invite visitors to relax while waiting to be attended to.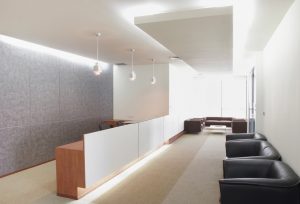 –              Introduce fresh and youthful enthusiasm into your renovation with decorating ideas that will ignite the entire company.  Think out of the box by clustering large over-sized chairs together for a fun and casual atmosphere where employees can chat, relax and share ideas.  Scatter a few tables around an open space with interesting reading material to stimulate employees and get their creative juices flowing.
The extent of your office renovation will depend on your budget and your requirements, but more than that, you should consider the many benefits of having happy employees who are willing to give their best when they feel comfortable and safe in their newly renovated work spaces.