As the COVID-19 pandemic hit, businesses across the globe faced a challenge unlike ever before and Australia was no exception to this. The Government's measures reduced the number of lives lost due to the virus, but it's imminent that businesses and employees will have to find new ways of operating in their day to day life. 
How can we help you to adapt to a New Workplace?
We've

 been constantly on our feet to develop and implement strategies that will help businesses create a safe environment for their employees while dealing with the COVID-19 threat. 

 

Our strategy and systems are designed to provide an unimpeded flow of work and optimize business processes for all Australian companies impacted by the COVID-19 crisis.

 

We have a team of qualified professionals that will explain how to maintain a normal workflow while maintaining the recommended safety standards

 

Our team will come to your premises to oversee the implementation and recommend improvement of the approach to the WHO recommendations, as well as the National and State guidelines.
Returning to work

 

– Adapting workplaces and protecting your staff
We at Office Fitout Group will make it our priority to help you reorganize your office according to the Australian government guidelines for safety.  
We will use an optimal design and structure that will maximize efficiency while prioritizing health and safety.

 

We will evaluate your workplace and identify crucial areas of risk

We will propose effective solutions to use your current office plan and furniture while meeting safety requirements

If your office will require reorganizing or adding new fixtures, we can suggest some cost-efficient solutions that will meet both your office design and your budget.
Australian Government COVID – 19 Guidelines
Social distancing

 

Keep 1.5 metres away from others wherever possible.

 

Minimum of

 

4 square metres of space per person. 

 

Avoid physical greetings.

 

Practice good hygiene.

 

Sanitisers – alcohol-based hand rub for all staff.

Meeting setups.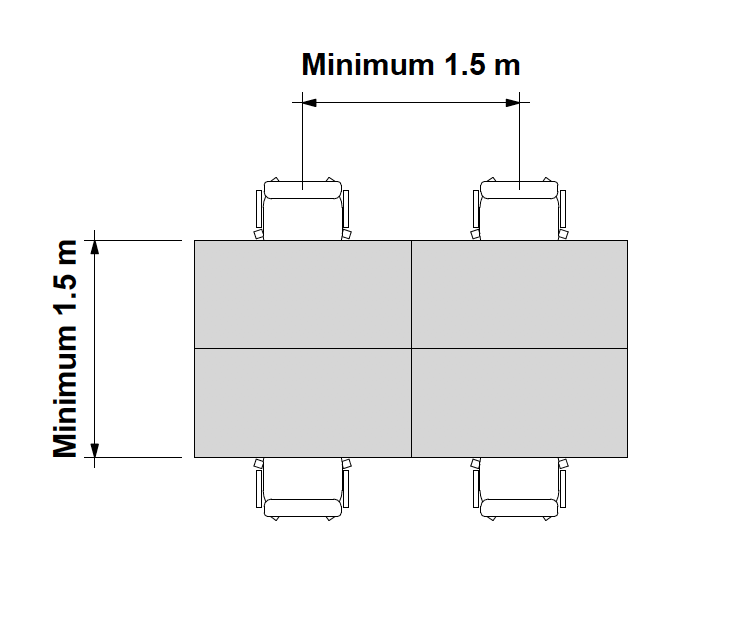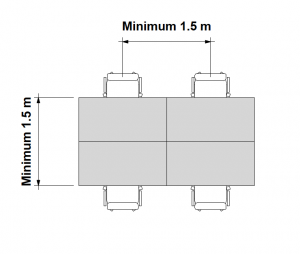 As office safety is becoming imperative to fight off the COVID-19, businesses are adapting their offices to the four-square meters space per person requirements.  
According to Clause 8 Section 1 of the Australian Public Health Order  a person who is the occupier or operator of premises (other than a place of residence) must not: 
 for premises comprised of an

 

outdoor space—allow 500 or more persons to enter or stay on the premises at the same time, or

 

 for premises comprised of an indoor space—allow 100 or more persons to enter or stay on the premises at the same time, or

 

 allow persons to enter or stay on the premises (whether comprising an outdoor or indoor space) if the size of the premises is insufficient to ensure there is 4 square metres of space for each person on the premises. 

 
The last one is critical for businesses as it's a rule designed to help you calculate the maximum number of people allowed to be in your office at the same time. It's the space required to ensure that each person has the 1.5 meters of physical distance to avoid the spreading of the coronavirus.
Key 

w

orkplace 

a

daptations and 

a

djustments | 

Fit

 

for

 

w

ork
Good Ventilation
We've all heard the importance of good ventilation that will provide a steady airflow to prevent the spreading of the coronavirus in the office. Make sure that you and your staff open the office windows regularly or install office climate control systems to provide a constant flow of fresh air. 
Inferior air quality contributes to the decline of hygiene, which further increases the health risks for employees. This is why it's critical for business owners to ensure there is proper air quality provided by good ventilation. It can minimise the risks of COVID-19 spreading among employees.

Side 
Dividing
 Screen Solutions
If you already have separation screens between your staff members, but there are still some workers that sit close next to each other, you need to install side screens that will separate them from colleagues of their left and their right. It will minimize physical contact between employees and with it, the risk of the virus spreading.


Hygiene Sneeze Guard
Hygiene sneeze guards are acrylic plexiglass screens that protect individuals from the infected droplets carrying the virus. You can use them for both your employees and clients and even order them with cut-outs to be able to transfer documents between two people with minimal physical contact.

Social Distancing? Signage Solutions!
Placing posters and signage throughout the office is very helpful for employees to remember the health implications and guidelines. It's also a good way to remind employees of the risks of COVID-19 and how they can easily prevent it.   
Some of the signs you can place around the office are: 
How to wash your hands' poster 

 

Maintain a safe distance poster 

 

Keep your workspace clean and disinfected

 

How everyone's input is needed to fight off COVID-19

 

The importance of mental health during these trying times


Sanitiser Solutions
Make sure that your workspace is regularly disinfected and cleaned. It is crucial that every workspace is cleaned and disinfected by every worker or other visitor throughout the day and at the end of the working hours to prepare the area for the next day. Areas that are touched frequently such as doorknobs, elevator buttons, handrails, and signing pens require more attention and should be cleaned more frequently.  
Advise your workers to wear gloves when they touch or clean frequently touched areas and encourage them to clean their workspace with disinfectants a few times daily and at the end of their workday. As mentioned previously, have signs instructing them to clean their private possessions such as phones, glasses, pens, or laptops.
Commonly Requested 

Workplace

 Changes

 – Fit to Work
Workspace Reconfiguration
We can help you make the transition to the post-COVID-19 workplace and adapt to the new social norms imposed by the virus. Our team is ready to configure your business using the latest technology that will reduce the risk of disease transmission.


Office Design – How office design can help to improve workspace 
We are equipped to help you COVID-proof your business in the short-term and long-term. As a short-term strategy, we will employ physical distancing measures, provide barriers, enhance cleaning and safety measures and provide you with guidelines on how you can support employees who are working from home.

In the long-term, we will integrate solutions to offices and buildings based on research.
As scientists release new information on how the virus behaves, we will adapt our strategies accordingly to ensure you have the latest, up-to-date workplace design where health and safety are paramount.


Additional workspace arrangements 
Placing additional equipment such as protective screens, desk separators, and signage will help you and your employees combat the pandemic effectively. Whether it's sanitisers in various locations, posters to remind everyone to follow the health guidelines or electronic equipment to help normal workflow, we can organize and set up everything you need to get back into your regular business operations.


Signage 
Visuals are important to remind employees and visitors of all health and safety rules imposed by the Australian government. We can provide you with physical distance markers, Hygiene Best Practice posters, stickers, and any other signage you may need to remind your staff of the consequences of the virus and how they can help prevent it from spreading.


Staff Home Office Setup 
Even though offices are being remodelled to comply with Australian safety regulations, there is a great number of employees who are still working from home. We can set up home offices for your staff members to ensure your business operations are flowing smoothly and all your employees are equipped with everything they need to maximize their efficiency.

Meeting Room Audio Visual Conferencing design & fit
–
out
We understand that conferences are now set up differently than before due to the required four square meters per person. Therefore, the audio and video requirements to have a conference meeting have changed as well. We can help you adapt to these changes by installing acoustic panels and structuring your conference room according to the four square metres structure. Along with installing Video conferencing solution to suit any requirement.


We can help you make your workplace ready for New Normal 
Our company brings over 30 years of combined experience in Office Design and fit out and have helped thousands of businesses around Australia. This is what we do: 
Commercial and interior design

 

Office Space Planning

 

Design and 

Fit

o

ut

 

Branding 

Fitout

 

Commercial Joinery

 

Office Relocation

 

Project Management

 

Commercial Acoustic Solutions
We value honesty, 
trust
 and respect
We are straightforward with our pricing and for what you'll receive,  to ensure you can make an informed decision before investing in the right services for your office. 
Our business operates through our clients' trust, which is why we work towards ensuring all our clients are fulfilled with their new office. 
Your workplace is our workplace. Our director will personally oversee and review each project to ensure that every detail is taken care of with the utmost quality in mind. Only "good" is not good enough.
Specialist in Office refurbishments while still occupied
We have the experience and knowledge to get the job done without obstructing the normal workflow of any business. 
We understand that business owners may be hesitant to start redesigning their offices and intimidated by the process, however, we specialise in walking you through the process to create a safe, efficient environment for your business. 
We offer free design, measure & quote to show you how we will make everything happen. To guarantee that everything will be finished in a timely manner and with as little obstruction to your business, we work weekends and after hours.
No job is too small
We want to ensure that every business can forge ahead and make a positive difference into the new world, which is why we dedicate time to every single project, regardless of how big or small your business may be.   
We are experienced in 

Fitout

 During Occupation, so you 

won't

 have to close down your doors while we do our thing.

Honesty, 

trust

 and respect are what we value most; so there will be no hidden fees, costs or surprises that will change the final cost. Everything that would cause a change in the price of the project will be disclosed to you in a timely manner and discussed before anything major is implemented. 

 

We love what we do, and because of this, we design every project with love and attention. We want to make sure you and your staff get a workspace that will inspire you and motivate you to do better every day, just like we do.