At Kynd. Montessori Learning Centre, the main objective had always been to foster an exciting learning atmosphere for children. But with the challenges of having limited outdoor spaces and disconnection between areas, it was a difficult task. A fit-out on a limited budget, focused on structuring as well as maximising the space layout was essential.
Key Features Of this Build
Space Planning
Functional Assessments
Office Access & Security
Project Management
Lighting Installation
Full Furniture Installation
Office Lighting Installation
Electrical Data Cabling
Equipment Supply
Design & Documentaion
Office Signage & Graphics
Office Flooring
The opportunity to accomplish a bright and open layout arose as our team did a complete demolition and strip out process. Outdoor play areas to improve children's motor skills and physical growth were also incorporated in this build. These structural works additionally include outdoor gardening and natural landscaping, that allow sufficient lighting and airflow into space.  
The whole venue integrated customised, premium furniture that embraces a playful design. A high quality and durable glass lift were installed along with the finest finishes and equipment, such that space could complement the Montessori's philosophies and overall experience. While keeping a tight budget, we made certain to use safe and organic materials throughout the project. Natural plants and playing equipment were carefully selected to ensure Low VOC, which was non-toxic for children.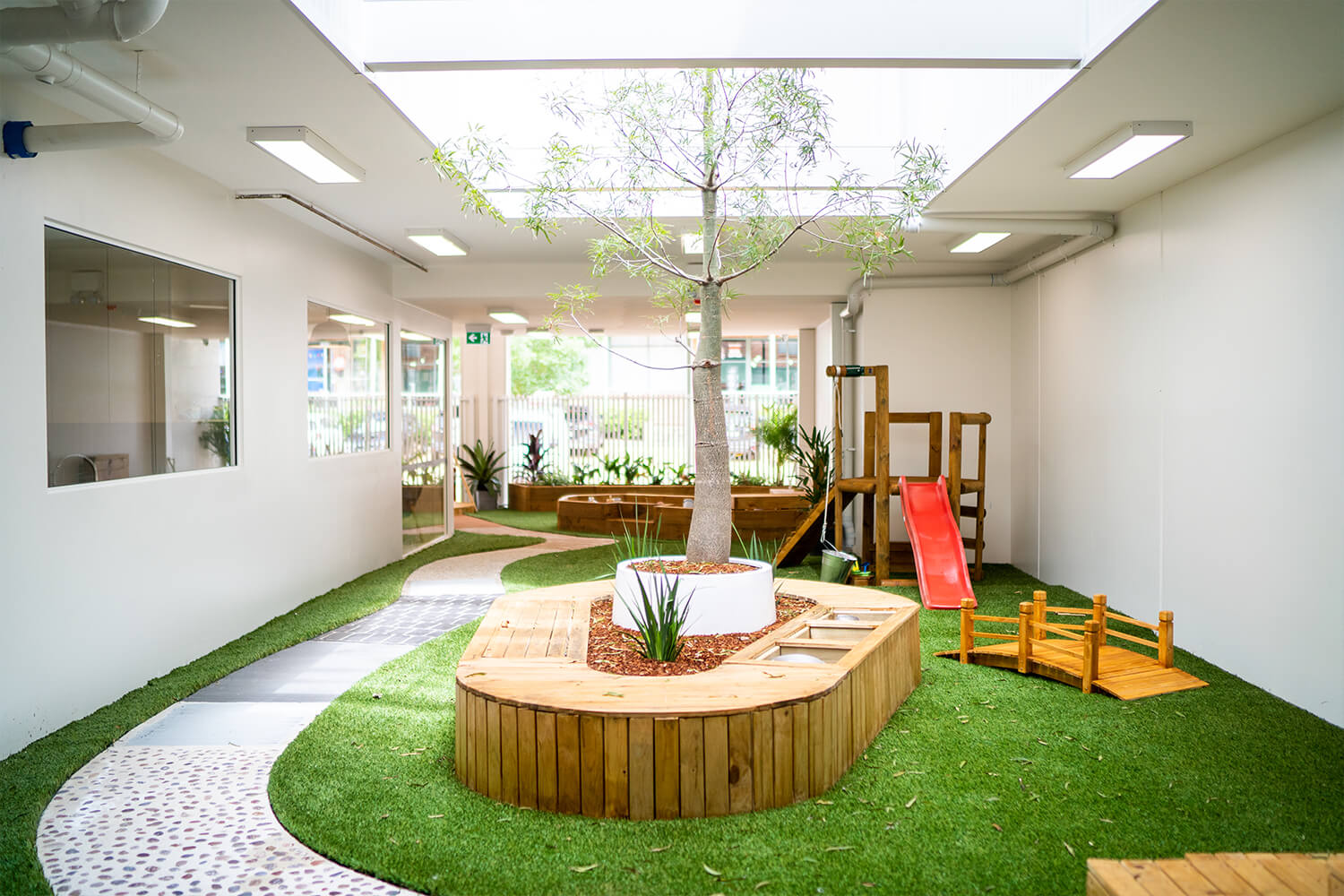 While not every facility had an outdoor space, we made sure to maximise the available area. Our team added a mezzanine floor and opened up the roof to create new outdoor play areas. Additionally, a welcoming large tree was installed in the outdoor zone, which spans both floors. The natural flow had been developed throughout the space to create a nurturing environment that set Kynd. Montessori, a great place to learn.